The FIFA World cup in South Africa four years ago, was made popular with a certain Octopus named Paul been the star of the Mundial with his accurate predictions of matches.
In the Brazil 2014 World Cup, software giant, Microsoft have claimed that their software, Cortana predicts match outcomes with 100% accuracy.
And Cortana assistant is proving a worthy digital replacement for the now-deceased cephalopod, Paul.
Microsoft started adding World Cup predictions to Cortana last weekend, and she has successfully predicted many of the matches in the round of 16, backing Brazil, Colombia, the Netherlands, Germany, France, Costa Rica and Belgium into the quarter finals
Like Apple's Siri, Microsoft's virtual assistant Cortana, named after the AI character in its Halo video games and voiced by the same actress, is using a number of indicators to predict the winners of World Cup matches.
"For the tournament our models evaluate the strength of each team through a variety of factors such as previous win/loss/tie record in qualification matches and other international competitions and margin of victory in these contests" said Microsoft's Bing blog.
The new prediction functionality is part of regular updates that Microsoft makes to Cortana every two weeks, bringing simple improvements and new data to the service Microsoft's Bing predictions engine.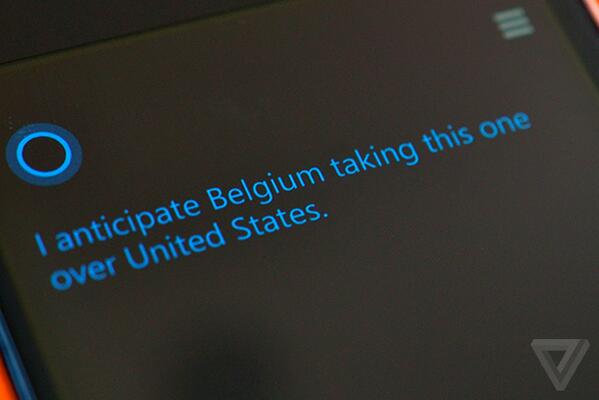 This is not the first time that the software has predicted the outcome of competition as it has previously forecast who would get voted off or win The Voice, Dancing With the Stars, and American Idol.
Microsoft uses models to evaluate World Cup teams based on win / loss / tie records, game time, weather conditions, home advantages, and other factors.
For the quarterfinals fixtures, Cortana has predicted that Germany will beat France, hosts Brazil will triumph over Colombia, Argentina will get the better of Belgium and the Netherlands knock out Costa Rica.